Welcome to our Live Betting page. With most of the major sportsbooks online now delivering mobile optimized versions of their sports betting offerings, live mobile betting is garnering widespread attention among bettors. Unlike mobile casinos and poker options which provide a scaled back version of their services, mobile sports betting solutions typically offer their full range of services, betting lines and wagering options through their mobile platform. This means that bettors have access to a much more feature rich experience than other mobile gaming venues can offer at this point, and this includes live sports betting, which is far and away my very favorite option in sports betting because it gives me out's allowing me to protect my bets while offering me huge payouts if I hit. It doesn't get much better than that.
What Exactly Is Mobile Betting?
In a nutshell, live mobile betting is the mobile version of live sports betting. Live sports betting is a feature that online sportsbooks offer that allows you to place wagers on various elements of a game or match during the event. Traditional betting lines close down right before the event begins. Live betting lines allow you to place wagers after the event has started and throughout the duration of the game. The odds and lines in live betting change throughout the game, reflecting odds in real time based on the progress of the event and performance of the players. Lines will include your usual moneyline, point spread and over/under totals, with the lines moving throughout the game, as well as various event, team, and player props. The variety of betting options can be staggering at first and a bit overwhelming, but you'll find your 'niche' of pleasure pretty quickly and it won't take long for you to become acclimated to your preferences for live betting.
Which Sports Am I Able To Bet On During Live Wagering?
The answer to this question varies from site to site, however the reputable brands will always include the most popular sports such as football, basketball, baseball, soccer, and hockey, with many of them also covering tennis, golf, UFC events, motor sports, cricket, rugby, and horse racing among others. The brands that are recommended in this guide offer a strong selection of sports events in their live mobile betting lines.
What Are The Best Sportsbooks Offering Live In Game Betting Lines Accessible Through A Mobile Device?
Our team of review specialists has compiled a refined listing of the best options for participating in live mobile sports betting. We placed all eligible mobile sports books through an intense and complex review process that effectively revealed their value to the industry, including their legitimacy concerning licensing and compliance certifications, as well as their performance, range of offerings, security profile and overall quality. We are highly selective with the sportsbooks which we recommend to our visitors, and while the list may not be lengthy, it is a reflection of the best that the industry has to offer. We compare their betting lines and paylines to other online and offline sportsbooks to ensure that the mobile sports betting sites we include are highly competitive and in line with their odds as compared to the industry standards. It is a lot of detailed work to complete this process, but well worth it to find the most trusted and reputable options for both us and our visitors. The table below will list the brands we recommend, and include a link to detailed reviews on each of them.
Is Live Betting Legal For US Players?
There are a number of legally licensed and certified USA mobile sportsbooks which accept players from the United States. These mobile sports betting sites are regulated and located outside of the USA within a governing jurisdiction which has already legalized online sports betting for their region. This allows them to legally offer their services to US bettors. There are no federal laws which prohibit US players from participating in legally licensed online sports betting; hence you will not be breaking any type of laws for betting on sports from your smartphone or tablet, as long as the site is operating legally within the industry. Operating an online sports betting site within the United States is not legal at this time, so you will want to avoid any sites that are operating illegally within the US' borders.
Do Sportsbooks That Offer Live In Game Betting Lines Offer Bonuses And Promotions?
The live mobile betting sites we recommend do offer bonuses to bettors. Some of them have an offer that is unique to their mobile platform, while others simply include their standards online sports betting bonuses. For example, Bovada Mobile Sportsbook extends their existing bonus to their mobile players with their 50% match bonus up to $250 on your first deposit. The welcome bonus is identical whether you are playing on your computer or smartphone. This will be the case for the majority of reputable brands offering live sports betting options. In addition, most of the brands will also offer seasonal and special promotions that are tied to a particular event, holiday or tournament. Bovada regularly sends me emails with promotional offers that I can use either on my computer or on my mobile device. Some mobile sportsbooks have a 'coupons' section that provides access to promotional coupons and offers.
A Walkthrough Of Making Live Bets From Your Mobile Device At Bovada
Your first step will be to access one of the links below and visit their site to register for a player account. Once you've completed the registration process, you can then access their mobile sports book on your smartphone or tablet. We have included some images below to give you an idea of what the interface looks like and how you navigate it. While it varies from brand to brand, they are all generally similar in format. We've chosen our number one mobile sports betting site to use for the screenshots, Bovada Mobile Sportsbook. You can learn more about them and the other brands we recommend in our mobile sportsbook reviews section.
Here is a screenshot of Bovada's Mobile Sportsbook lobby. As you can see, this area provides access to all the sports betting lines that they offer, including their live betting which is the red button in the lobby.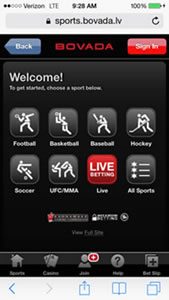 After selecting the Live Betting option, you are directed to this next screen, which reveals the sports that are included in this feature, as well as which events are currently live and available for wagering. To see more of the sports options in the top menu, you simply swipe the icons to the left with your finger. To see additional live events, you can scroll down. To select an event that is showing, you simply tap the white arrow found at the far right of each line.
After choosing the first soccer event, I am directed to this screen, where I can select what type of wager I want to place.
Here you can see that I decided to place my bet on match results. The following screen reveals the opportunity to actually place my bet.
As you can see making live bets is a very straightforward process, and is intuitive and simple to navigate through the mobile betting interface. Bovada has a great live betting section in their mobile sports book, and they are my first choice for live betting on my mobile phone or tablet, though I do shop lines among all our recommended brands before I place a bet. While Bovada may be my favorite, I'm going to go with whoever is offering the best odds for the event I'm interested in.
Other Reasons Why Live Betting Is The Nuts
Have you ever had the team you bet on come out like a bunch of chumps for the first 10 minutes of the game? If your an avid player like I am, I'm sure you've seen this happen a time or two. What makes live inplay betting so appealing to me is the fact that I can get incredible odds throughout the game that not only offers big odds, but also ways to protect my original frontline bet if I don't like it anymore. Just last year I had a couple different big scores because I bet on New England to come back and win the game after being down big early. Their incredible 4th Q comebacks paid huge odds, like +2500 or something. I've also had some incredible scores betting on Alabama to come back and win. Needless to say live betting creates all sorts of betting opportunies that a player normally wouldn't have. It's akin to having a 6th and 7th street in poker with more available outs and ways to win.
One other thing to keep in mind is most of the live betting platforms at the various online sportsbooks show the exact score of every game in real time. However check out the following page if you are interested in what the best free sports apps are for things like checking scores, breaking news and more.