This section of our website will provide visitors with interesting, industry related news stories and articles that provide current updates and intriguing facts and figures.
Mobile Sportsbook App Industry News, Articles and Headlines
Here you will find insightful and thoughtful articles that reflect current industry news and happenings. The mobile market continues to expand and advance technologically by leaps and bounds, and we intend to share this information with our readers as a comprehensive part of our overall resource guide. It will be written by industry professionals who understand that a laymen's approach will reach the masses, so you won't have to be a technological genius to understand what is happening in the mobile driven world we are now living in. This section will include articles and news stories that are mobile market related in general, and will not be solely limited only to news that relates to sports betting alone.
Caesars Entertainment partnered with Scientific Games to launch a sportsbook as an expanded feature to their existing offers in NJ. On September 6th, Caesars became the 6th company to launch...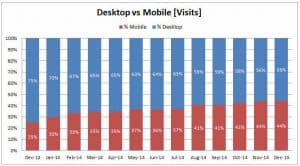 It is clear from multiple indicators that mobile web browsing is significantly growing while desktop web browsing is decreasing. This was predicted to occur back in 2010 when Morgan Stanley,...